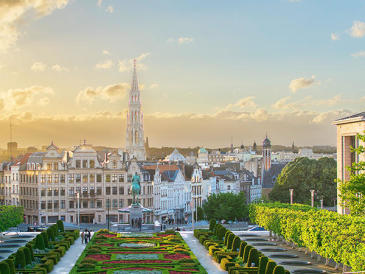 Brussels
Brussels is an international metropolis, the home of the European Union, NATO and hundreds of international organizations.
Brussels wears three impressive hats, as the capital of Flanders, Belgium and Europe. Among its most celebrity attractions is La Grand Place, a UNESCO World Heritage Site originally built in the 13th century and arguably Europe's most beautiful medieval square. It started life as a fortress, then developed into a market square and eventually blossomed into the economic, political and social centre of the Flemish capital.
Although this list is by no means exhaustive, we feel it represents a genuine sampling of the diversity Brussels has to offer travelers.
Brussels is a city of contrasts with enormous diversity when it comes to places of interest and things to do.
If you are a chocoholic make your way to Place du Grand Sablon and its numerous chocolate shops.
Just a short walk from the Grand Place is the Mannekin Pis, a small bronze statue of a little boy relieving himself. The statue, a good example of Belgium's quirky sense of humor, is often given costumes to mark various occasions, anniversaries or events.
Brussels is a classic European city with small-town charm and cosmopolitan attractions.
5 nights /air ticket /BB, euro/pers, from:
dbl
sngl

€

332

€

436

€

366

€

532

€

373

€

517

€

378

€

509

€

379

€

517

€

450

€

693
Period of Valability 25.07.2017 - 31.12.2017
The price is in EURO and it includes: accommodation with breakfast, air ticket from / to Chisinau.
The price does not include: transfer, medical insurance.
The fare is minimum and it depend on the seasonality, the possible growth of the operational costs, and local events such as: fairs, holidays, symposiums, conferences etc. The minimum number of nights for accommodation may be extended until 7 nights, the rates being modified accordingly.
Air Moldova Corporate Contacts:
Address: Bvd. Negruzzi 10 MD-2001, Chisinau, Moldova
Tel.: + 373 22 811 636
Fax: + 373 22 274 259
E-mail: corporate@airmoldova.md