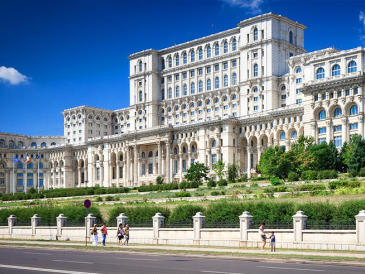 Bucharest
Bucharest is the capital and largest city of Romania, as well as it is cultural, industrial, and financial centre. It is located in the southeast of the country, on the banks of the Dâmbovița River, less than 60 km (37.3 mi) north of the Danube River and the Bulgarian border.
Bucharest was first mentioned in documents in 1459. It became the capital of Romania in 1862 and is the centre of Romanian media, culture, and art. Economically, Bucharest is the most prosperous city in Romania and is one of the main industrial centres and transportation hubs of Eastern Europe. The city has big convention facilities, educational institutes, cultural venues, traditional "shopping arcades", and recreational areas.
Bucharest is a city for young people and it truly shows every single day in its many pedestrian streets where Romanians go out to drink and eat in the company of their friends and loved ones at all hours.
To enjoy Bucharest is to enjoy a vibrant city that, simply put, never rests. Places of interest in Bucharest include the Historical Old Town, the Parliament Building (the second-largest building in the world (after the Pentagon).), the ruins of the Palace of Vlad the Impaler (aka Bram Stoker's inspiration for Dracula), University Square with its many book salesmen and the Cișmigiu Gardens where I encountered the Orthodox Easter Bunny.
Bucharest today is open and green – a place where tradition partners with modern life! Here's what to see and do.
3 nights /air ticket /BB, eur/pers, from:
dbl
sngl

€

169

€

235

€

197

€

245

€

214

€

270

€

267

€

369
Period of Valability 25.07.2017 - 31.12.2017
The price is in EURO and it includes: accommodation with breakfast, air ticket from / to Chisinau.
The price does not include: transfer, medical insurance.
The fare is minimum and it depend on the seasonality, the possible growth of the operational costs, and local events such as: fairs, holidays, symposiums, conferences etc. The minimum number of nights for accommodation may be extended until 7 nights, the rates being modified accordingly.
Air Moldova Corporate Contacts:
Address: Bvd. Negruzzi 10 MD-2001, Chisinau, Moldova
Tel.: + 373 22 811 636
Fax: + 373 22 274 259
E-mail: corporate@airmoldova.md