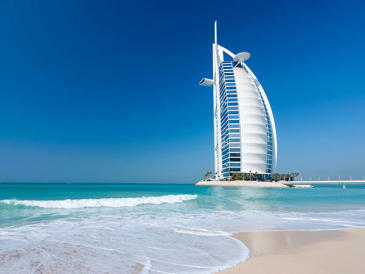 Dubai
Dubai is located on the Eastern coast of the Arabian Peninsula, in the south west corner of the Arabian Gulf. It is extremely well known for its warm hospitality and rich cultural heritage, and the Emirati people are welcoming and generous in their approach to visitors. With year-round sunshine, intriguing deserts, beautiful beaches, luxurious hotels and shopping malls, fascinating heritage attractions and a thriving business community, Dubai receives millions of leisure and business visitors each year from around the world.
The local currency is the dirham, which is pegged at AED 3.67 to 1 US dollar. Dubai is tolerant and cosmopolitan and all visitors are welcome. However, Islam is a way of life in the city, and therefore tourists should adopt a certain level of cultural and religious sensitivity for the duration of their stay. Dubai is not only home to spectacular attractions but has also transformed its skyline with startling architectural projects.
If you ever want to soar like an eagle, visit the Burj Khalifa (Burj Al Khalifa), the world's tallest building. Also, you should to visit Al Bastakiya district - the oldest residential district in Dubai dating to 1890, the area is significant for its old-time architecture and the unaffiliation for the busy lives of Bur Dubai. Each part of the city its share of fine mosques, public buildings, shopping malls, hotels, office towers, banks, hospitals, schools, apartments and villas. Dubai is blessed with golden sunshine and silvery beaches.
4 nights /air ticket /BB, euro/pers, from:
dbl
sngl

€

498

€

626

€

499

€

629

€

525

€

682

€

561

€

687

€

709

€

1090
Period of Valability 23.11.2017 - 31.12.2017
The price is in EURO and it includes: accommodation with breakfast, air ticket from / to Chisinau.
The price does not include: transfer, medical insurance.
The fare is minimum and it depend on the seasonality, the possible growth of the operational costs, and local events such as: fairs, holidays, symposiums, conferences etc. The minimum number of nights for accommodation may be extended until 7 nights, the rates being modified accordingly.
Air Moldova Corporate Contacts:
Address: Bvd. Negruzzi 10 MD-2001, Chisinau, Moldova
Tel.: + 373 22 811 636
Fax: + 373 22 274 259
E-mail: corporate@airmoldova.md