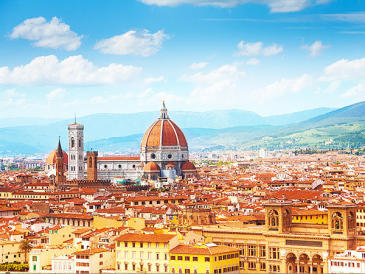 Florence
Florence is the capital city of the Italian region of Tuscany and of the Metropolitan City of Florence. The Historic Centre of Florence attracts millions of tourists each year and it was declared a World Heritage Site by UNESCO. The city offers a numerous museums and art galleries, such as the Uffizi Gallery and the Palazzo Pitti. The city is noted for its culture, Renaissance art, architecture and monuments. It was the birthplace of many prominent historical figures, such as: Dante, Leonardo da Vinci, Botticelli, Michelangelo, Donatello, Galileo Galilei, Catherine de' Medici, Guccio Gucci, Roberto Cavalli and many others.
Due to Florence's artistic and architectural heritage, it has been ranked by Forbes as one of the most beautiful cities in the world.
3 nights /air ticket /BB, euro/pers, from:
dbl
sngl

€

228

€

280

€

261

€

373

€

299

€

452

€

334

€

439

€

397

€

431
Period of Valability 25.07.2017 - 31.12.2017
The price is in EURO and it includes: accommodation with breakfast, air ticket from / to Chisinau.
The price does not include: transfer, medical insurance.
The fare is minimum and it depend on the seasonality, the possible growth of the operational costs, and local events such as: fairs, holidays, symposiums, conferences etc. The minimum number of nights for accommodation may be extended until 7 nights, the rates being modified accordingly.
Air Moldova Corporate Contacts:
Address: Bvd. Negruzzi 10 MD-2001, Chisinau, Moldova
Tel.: + 373 22 811 636
Fax: + 373 22 274 259
E-mail: corporate@airmoldova.md