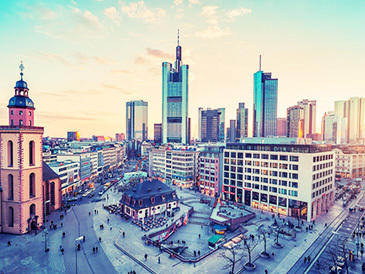 Frankfurt
Located on the river Main, Frankfurt is the financial capital of Continental Europe and the transportation centre of Germany. Frankfurt is home of the European Central Bank and the German Stock Exchange. Furthermore, it hosts some of the world's most important trade shows, such as the Frankfurt Auto Show and the Frankfurt Book Fair along with many fine museums, galleries, and gardens. Frankfurt is home to many museums, theatres and a world-class opera. Frankfurt is known for its futuristic skyline and the busiest German airport.
Frankfurt is a city of contrasts. Wealthy bankers, students and granola drop-outs coexist in a city that has some of the highest, most avant-garde skyscrapers of Europe next to well maintained old buildings. The city centre, especially Römer square and the museums at the River Main, draw millions of tourists every year.
3 nights /air ticket /BB, euro/pers, from:
dbl
sngl

€

317

€

341

€

326

€

450

€

349

€

384

€

351

€

386

€

375

€

505

€

437

€

572

€

475

€

751
Period of Valability 25.07.2017 - 31.12.2017
The price is in EURO and it includes: accommodation with breakfast, air ticket from / to Chisinau.
The price does not include: transfer, medical insurance.
The fare is minimum and it depend on the seasonality, the possible growth of the operational costs, and local events such as: fairs, holidays, symposiums, conferences etc. The minimum number of nights for accommodation may be extended until 7 nights, the rates being modified accordingly.
Air Moldova Corporate Contacts:
Address: Bvd. Negruzzi 10 MD-2001, Chisinau, Moldova
Tel.: + 373 22 811 636
Fax: + 373 22 274 259
E-mail: corporate@airmoldova.md