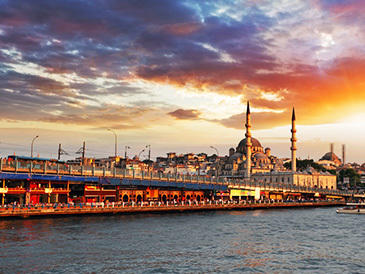 Istanbul
Istanbul is the only city in the world that spans two continents, and this meeting point between Asia and Europe is joined by the city's iconic Bosphorus Bridge.
Istanbul is one of the world's great metropolises. The city is liberally scattered with glorious remnants of its long and illustrious history, and the sightseeing here will impress even the most monument-weary visitor. Although many tourist attractions are located in, or near, the old city district of Sultanahmet, there is a dazzling array of other tourist attractions throughout the further reaches of the city.
But while Istanbul's heart lies in its past, the soul of Istanbul is aimed squarely in the future, propelling a renaissance that pervades nearly every corner of city life. Formerly derelict neighborhoods are now delightful and atmospheric places to visit.
3 nights /air ticket /BB, euro/pers, from:
dbl
sngl

€

199

€

229

€

210

€

287

€

216

€

243

€

231

€

203

€

259

€

214

€

270

€

346

€

287

€

386
Period of Valability 25.07.2017 - 31.12.2017
The price is in EURO and it includes: accommodation with breakfast, air ticket from / to Chisinau.
The price does not include: transfer, medical insurance.
The fare is minimum and it depend on the seasonality, the possible growth of the operational costs, and local events such as: fairs, holidays, symposiums, conferences etc. The minimum number of nights for accommodation may be extended until 7 nights, the rates being modified accordingly.
Air Moldova Corporate Contacts:
Address: Bvd. Negruzzi 10 MD-2001, Chisinau, Moldova
Tel.: + 373 22 811 636
Fax: + 373 22 274 259
E-mail: corporate@airmoldova.md