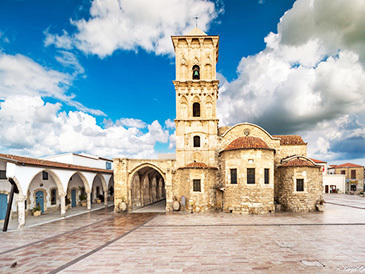 Larnaca
The Larnaca (Larnaka) area of Cyprus has a long history of tourism and the city boasts a truly stunning setting, on the southerly Mediterranean coast, where it is home to the island's premier airport. Once a sleepy town, the Larnaca of today has managed to retain much of its earlier charm, whilst catering to the regular influx of sun-seeking, beach-going, night-clubbing holiday makers.
There really is plenty for everyone in Larnaca, with its characterful and historical Turkish Quarter being a labyrinth of traditional streets, white-washed Cypriot housing and local craft shops. Close by and along the bustling, palm tree-lined Leoforos Athinon / Athinou Avenue (Finikoudes Promenade), a myriad of shops and chain stores present themselves, while nearby and close to the Sun Hall Hotel, tourist information is available at the office of the Cyprus Tourism Organisation (CTO).
7 nights /air ticket /BB, euro/pers, from:
dbl
sngl

€

418

€

490

€

429

€

544

€

433

€

499

€

442

€

603

€

519

€

709

€

560

€

699

€

996

€

1421
Period of Valability 25.07.2017 - 31.12.2017
The price is in EURO and it includes: accommodation with breakfast, air ticket from / to Chisinau.
The price does not include: transfer, medical insurance.
The fare is minimum and it depend on the seasonality, the possible growth of the operational costs, and local events such as: fairs, holidays, symposiums, conferences etc. The minimum number of nights for accommodation may be extended until 7 nights, the rates being modified accordingly.
Air Moldova Corporate Contacts:
Address: Bvd. Negruzzi 10 MD-2001, Chisinau, Moldova
Tel.: + 373 22 811 636
Fax: + 373 22 274 259
E-mail: corporate@airmoldova.md