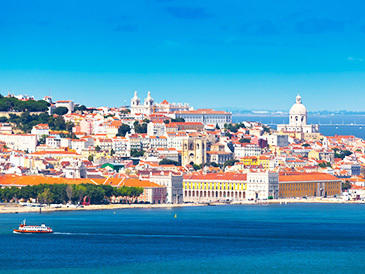 Lisbon
Lisbon has a faded elegance and quite a few unique attractions to keep a tourist busy for a while, with a bonus of some superb beaches less than an hour away.
Food variety and value is excellent, local wine and beer is acceptable, coffee is fantastic and there are plenty of interesting walks to aid the digestion or clubs to wail away the night.
Portugal's unique art forms, azulejos and Manueline (Gothic) decoration are at their best in this city and there's no shortage of striking buildings and monuments, particularly churches and monasteries. The streets are safer than in most European cities, the taxis are decent value and the museums are magnificent. Within very easy hire-car distance on spanking new motorways are surfing beaches, climbing castles, medieval walled towns, national parks, a zillion churches/monasteries and even the Algarve in three hours.
4 nights /air ticket /BB, euro/pers, from:
dbl
sngl

€

389

€

476

€

410

€

562

€

454

€

619

€

469

€

638

€

496

€

666

€

536

€

726
Period of Valability 25.07.2017 - 31.12.2017
The price is in EURO and it includes: accommodation with breakfast, air ticket from / to Chisinau.
The price does not include: transfer, medical insurance.
The fare is minimum and it depend on the seasonality, the possible growth of the operational costs, and local events such as: fairs, holidays, symposiums, conferences etc. The minimum number of nights for accommodation may be extended until 7 nights, the rates being modified accordingly.
Air Moldova Corporate Contacts:
Address: Bvd. Negruzzi 10 MD-2001, Chisinau, Moldova
Tel.: + 373 22 811 636
Fax: + 373 22 274 259
E-mail: corporate@airmoldova.md