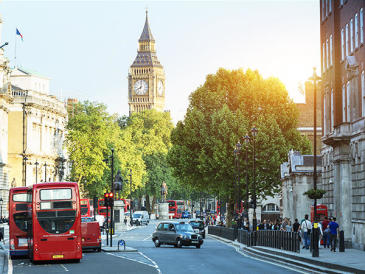 London
The cosmopolitan city of London is the capital of England and its very name suggests history and grandeur. It is the premier city in Europe in terms of size, population and per-capita wealth. What strikes visitors more than anything about London is the sheer size of this city, spreading across a huge area from its core on the River Thames, which meanders through the city centre, dividing it into northern and southern halves.
The central area and the most important sights, theatres and restaurants are within the London underground train Circle Line on the northern bank of the River Thames. The trendy and tourist-ridden West End of London lies within the western portion of the loop and includes Soho, Trafalgar Square, Piccadilly Circus, Leicester Square and Regent Street. Those without local roots will find this gigantic metropolis surprisingly diverse, and besides English, around 200 different languages are spoken within its confines, and all major religions are represented. At times, London can seem more like a country than a city.
3 nights /air ticket /BB, euro/pers, from:
dbl
sngl

€

314

€

429

€

323

€

449

€

343

€

452

€

369

€

574

€

389

€

509
Period of Valability 25.07.2017 - 31.12.2017
The price is in EURO and it includes: accommodation with breakfast, air ticket from / to Chisinau.
The price does not include: transfer, medical insurance.
The fare is minimum and it depend on the seasonality, the possible growth of the operational costs, and local events such as: fairs, holidays, symposiums, conferences etc. The minimum number of nights for accommodation may be extended until 7 nights, the rates being modified accordingly.
Air Moldova Corporate Contacts:
Address: Bvd. Negruzzi 10 MD-2001, Chisinau, Moldova
Tel.: + 373 22 811 636
Fax: + 373 22 274 259
E-mail: corporate@airmoldova.md