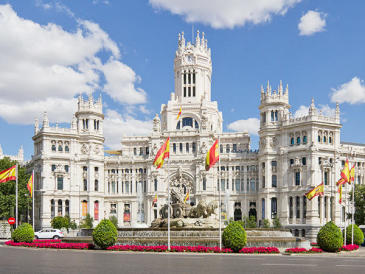 Madrid
Madrid, the capital of Spain, is a cosmopolitan city that combines the most modern infrastructures and the status as an economic, financial, administrative and service centre, with a large cultural and artistic heritage, a legacy of centuries of exciting history.
It has been populated since the Lower Palaeolithic era, although it was not until 1561 that King Philip II made Madrid the capital city of his vast empire. The historic centre, also known as the "Madrid of Los Austrias" (in reference to the Hapsburg monarchs), and the spectacular Plaza Mayor square –inaugurated in 1620 and one of the most popular and typical sites in Spain– are a living example of the nascent splendour of the city in the 16th and 17th centuries.
Near the Plaza Mayor is the area known as the "aristocratic centre" where the jewel in the crown is the Royal Palace, an imposing building dating from the 17th century featuring a mixture of Baroque and classicist styles. Beside it is the Plaza de Oriente square, the Teatro Real opera house, and the modern cathedral of La Almudena which was consecrated in 1993 by Pope John Paul II. The Puerta del Sol square is surrounded by a varied and select area of shops and businesses, and the "Paseo del Arte" art route –whose name derives from its world-class museums, palaces and gardens– are further elements in an array of monuments which includes particularly the Bank of Spain building, the Palace of Telecommunications, and the fountains of Cibeles and Neptune.
Madrid's lively nightlife is another key attraction of Spain's capital, due to its variety and the exciting atmosphere to be found in its bars, pubs, clubs and flamenco halls. Other daytime entertainment options include traditional outdoor dances, popular festivities and the San Isidro bullfighting festival, regarded as being the most important in the world.
3 nights /air ticket /BB, euro/pers, from:
dbl
sngl

€

331

€

423

€

377

€

453

€

382

€

509

€

389

€

483
Period of Valability 25.07.2017 - 31.12.2017
The price is in EURO and it includes: accommodation with breakfast, air ticket from / to Chisinau.
The price does not include: transfer, medical insurance.
The fare is minimum and it depend on the seasonality, the possible growth of the operational costs, and local events such as: fairs, holidays, symposiums, conferences etc. The minimum number of nights for accommodation may be extended until 7 nights, the rates being modified accordingly.
Air Moldova Corporate Contacts:
Address: Bvd. Negruzzi 10 MD-2001, Chisinau, Moldova
Tel.: + 373 22 811 636
Fax: + 373 22 274 259
E-mail: corporate@airmoldova.md