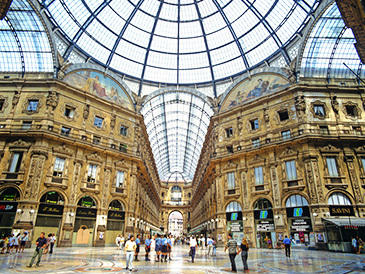 Milan
Milan is Italy's second largest city and a world centre for banking and high fashion. Famous city landmarks include the Duomo (Milan Cathedral), the Galleria Vittorio Emanuele II shopping plaza and the La Scala Opera House. Many people visit Milan to shop for fashionable Italian shoes, dresses and suits.
The Teatro alla Scala opera house is a particularly notable place of interest in the city, as are the many palaces of Milan, such as the Palazzo Borromeo, the Palazzo Marino and the Palazzo Real, amongst many others. Further tourist attractions within the city include the Meazza Stadium, the Rotonda della Besana, and the Giuseppe Verdi Music Conservatory. There may also be a show or event of some description taking place at the enormous Fiera di Milano complex.
4 nights /air ticket /BB, euro/pers, from:
dbl
sngl

€

259

€

297

€

294

€

406

€

302

€

404

€

309

€

424

€

311

€

383

€

330

€

434

€

1069

€

1929
Period of Valability 25.07.2017 - 31.12.2017
The price is in EURO and it includes: accommodation with breakfast, air ticket from / to Chisinau.
The price does not include: transfer, medical insurance.
The fare is minimum and it depend on the seasonality, the possible growth of the operational costs, and local events such as: fairs, holidays, symposiums, conferences etc. The minimum number of nights for accommodation may be extended until 7 nights, the rates being modified accordingly.
Air Moldova Corporate Contacts:
Address: Bvd. Negruzzi 10 MD-2001, Chisinau, Moldova
Tel.: + 373 22 811 636
Fax: + 373 22 274 259
E-mail: corporate@airmoldova.md