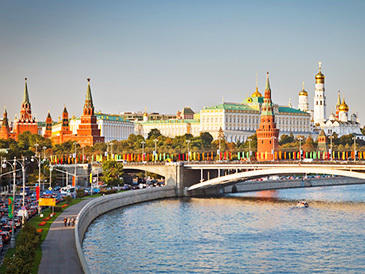 Moscow
Russia's recent history has been challenging for both its people and infrastructure, but Moscow's tourist attractions remain world class.
Moscow is a unique city, it's architecture combines the features of Oriental and Western cultures. The Byzantium traditions were overlapped by the creations of architects from Italy, England and other West-European countries.
The Moscow museums preserve invaluable treasures, including unique collections of Russian and foreign art and material culture. Currently, in Moscow there are more than 80 museums.
The most famous attractions include the Kremlin and Red Square, as well as St. Basil's Cathedral, perhaps the most well-known sight in Moscow. In addition, be sure to see the Bolshoi Theater, the Lenin Mausoleum and the Pushkin Museum of Fine Arts, as all are worthwhile attractions.
The area around the Kremlin is notable for its unique and powerful architecture, as well as for the fact that this area of Moscow has been a powerful force in the history of Europe and the world.
3 nights /air ticket /BB, euro/pers, from:
dbl
sngl

€

195

€

249

€

212

€

264

€

212

€

264

€

245

€

363

€

245

€

363

€

249

€

372

€

376

€

546
Period of Valability 25.07.2017 - 31.12.2017
The price is in EURO and it includes: accommodation with breakfast, air ticket from / to Chisinau.
The price does not include: transfer, medical insurance.
The fare is minimum and it depend on the seasonality, the possible growth of the operational costs, and local events such as: fairs, holidays, symposiums, conferences etc. The minimum number of nights for accommodation may be extended until 7 nights, the rates being modified accordingly.
Air Moldova Corporate Contacts:
Address: Bvd. Negruzzi 10 MD-2001, Chisinau, Moldova
Tel.: + 373 22 811 636
Fax: + 373 22 274 259
E-mail: corporate@airmoldova.md