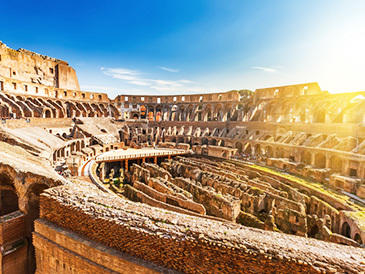 Rome
Modern and old, past and present go side by side, all the time. Whether you are in Rome for 3 days, 3 weeks or 3 months, be prepared to step into the world's biggest open air museum.
You can decide to follow the typical tourist paths or you can be luck or brave enough to go off the usual tracks. One way or the other, Rome will seduce you and it will hardly leave you indifferent. It will surprise you, like a beautiful middle aged woman that has still plenty to offer and whose beauty is just been merely blurred by time passing by.
Rome is one of world's most photogenic cities - not surprising when you remember what's here - The Vatican, the Trevi Fountain, St Peter's Square, Spanish Steps, Coliseum, etc.
Whether you spend your time sightseeing, or lazing in cafés watching the world go by, it will be your turn to feature in your very own Roman Holiday.
Rome is a romantic place for honey-moon, favorite holiday destination, and city of fashion.
3 nights /air ticket /BB, euro/pers, from:
dbl
sngl

€

246

€

309

€

281

€

340

€

299

€

370

€

302

€

410

€

321

€

447

€

352

€

436
Period of Valability 25.07.2017 - 31.12.2017
The price is in EURO and it includes: accommodation with breakfast, air ticket from / to Chisinau.
The price does not include: transfer, medical insurance.
The fare is minimum and it depend on the seasonality, the possible growth of the operational costs, and local events such as: fairs, holidays, symposiums, conferences etc. The minimum number of nights for accommodation may be extended until 7 nights, the rates being modified accordingly.
Air Moldova Corporate Contacts:
Address: Bvd. Negruzzi 10 MD-2001, Chisinau, Moldova
Tel.: + 373 22 811 636
Fax: + 373 22 274 259
E-mail: corporate@airmoldova.md