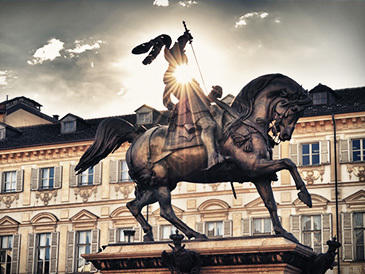 Turin
Located amidst serene lakes and soft alpine hills, the city of Turin Italy was long regarded as more an industrial center . Dubbed "The Detroit of Italy" due to the number of car manufacturers located in the city.
The city's other claim to fame is derived from the cloth that bears its name: The Shroud of Turin. Considered one of the holiest religious artifacts in the world, the shroud of Turin has long been believed to be the cloth that cradled Jesus Christ's body after it was pulled from the cross. The shroud is currently kept under lock and key at the holy shroud museum after spending most of its existence inside the nearby Cattedrale di San Giovanni. Millions of believers have made the pilgrimage to see the sacred relic.
Travel with us through a territory which, with its art, history, nature and culture, sport and tradition, has an exceptional appeal.
4 nights /air ticket /BB, euro/pers, from:
dbl
sngl

€

259

€

320

€

285

€

333

€

358

€

490

€

359

€

429

€

398

€

535

€

452

€

673
Period of Valability 25.07.2017 - 31.12.2017
The price is in EURO and it includes: accommodation with breakfast, air ticket from / to Chisinau.
The price does not include: transfer, medical insurance.
The fare is minimum and it depend on the seasonality, the possible growth of the operational costs, and local events such as: fairs, holidays, symposiums, conferences etc. The minimum number of nights for accommodation may be extended until 7 nights, the rates being modified accordingly.
Air Moldova Corporate Contacts:
Address: Bvd. Negruzzi 10 MD-2001, Chisinau, Moldova
Tel.: + 373 22 811 636
Fax: + 373 22 274 259
E-mail: corporate@airmoldova.md