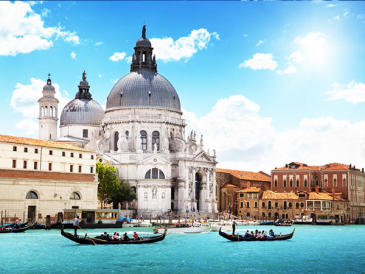 Venice
Just the name Venice is enough to conjure up a host of images, even for those who have not yet set foot in Italy: gondoliers in striped jerseys, the Rialto and the Bridge of Sighs, masked balls, golden barges, courtesans in gondolas and crumbling palaces facing streets made of water.
Venice is a small city, extremely concentrated, every corner, monument, church or museum contains a piece of history, a tale, a way to say or a tradition, not to be counted all the news and events that daily the city offers to citizens and visitors.
The city of Venice, Italy, is simply stunning and completely unique. The historic city centre of Venice is divided into six quarters - Cannaregio, Castello, Dorsoduro, San Marco, San Polo and Santa Croce.
Venice is without doubt one of the most beautiful and popular cities in the world, and is always admired by the many tourists that visit throughout the year.
3 nights /air ticket /BB, euro/pers, from:
dbl
sngl

€

279

€

353

€

310

€

406

€

375

€

450

€

424

€

485

€

430

€

569

€

545

€

831
Period of Valability 25.07.2017 - 31.12.2017
The price is in EURO and it includes: accommodation with breakfast, air ticket from / to Chisinau.
The price does not include: transfer, medical insurance.
The fare is minimum and it depend on the seasonality, the possible growth of the operational costs, and local events such as: fairs, holidays, symposiums, conferences etc. The minimum number of nights for accommodation may be extended until 7 nights, the rates being modified accordingly.
Air Moldova Corporate Contacts:
Address: Bvd. Negruzzi 10 MD-2001, Chisinau, Moldova
Tel.: + 373 22 811 636
Fax: + 373 22 274 259
E-mail: corporate@airmoldova.md