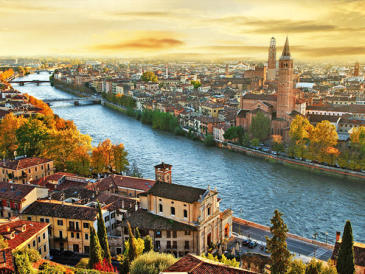 Verona
Verona is a pleasant city to explore on foot, armed with a map and a little background information. The town has a few important tourist sights, and plenty of other churches, monuments and things to see. There is also the museums and attractions : Verona Cathedral, Sant'Anastasia, Torre dei Lamberti, Casa di Giulietta, Arena di Verona, Arco dei Gavi, Castel Vecchio Bridge, Piazza Erbe , Piazza dei Signori and others.
Travel with us through a territory which, with its art, history, nature and culture and tradition, has an exceptional appeal.
3 nights /air ticket /BB, euro/pers, from:
dbl
sngl

€

265

€

343

€

269

€

321

€

283

€

365

€

298

€

321

€

348

€

427

€

413

€

635
Period of Valability 25.07.2017 - 31.12.2017
The price is in EURO and it includes: accommodation with breakfast, air ticket from / to Chisinau.
The price does not include: transfer, medical insurance.
The fare is minimum and it depend on the seasonality, the possible growth of the operational costs, and local events such as: fairs, holidays, symposiums, conferences etc. The minimum number of nights for accommodation may be extended until 7 nights, the rates being modified accordingly.
Air Moldova Corporate Contacts:
Address: Bvd. Negruzzi 10 MD-2001, Chisinau, Moldova
Tel.: + 373 22 811 636
Fax: + 373 22 274 259
E-mail: corporate@airmoldova.md