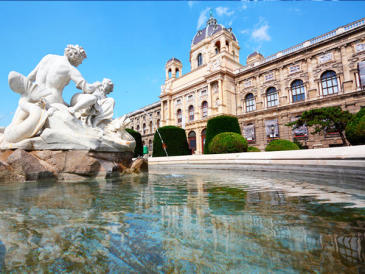 Vienna
Vienna is a city that has given the rest of the world some very precious things: the graceful Viennese waltz, delicate and deliciously sinful pastries, and a few great classical composers. Today's cityscape is characterized by the abundance of baroque buildings created mostly under the rule of Empress Maria Theresa and Emperor Franz Joseph, who was largely responsible for the monumental architecture round the Ringstrasse.
It is a city that represents refinement and culture to visitors, who will not lack for things to do. In Vienna, the old coffee house culture and rustic wine taverns stand alongside top restaurants and shops, and time-honored events alternate with internationally-acclaimed extravaganzas such as the Life Ball to create a unique and very special ambiance. All of this, plus plenty of greenspace and recreational areas including the Wienerwald, the Prater and the Danube Island make Vienna a very special city to visit.
4 nights /air ticket /BB, euro/pers, from:
dbl
sngl

€

285

€

350

€

306

€

386

€

314

€

427

€

320

€

425

€

326

€

431

€

381

€

561

€

427

€

343

€

549

€

620
Period of Valability 25.07.2017 - 31.12.2017
The price is in EURO and it includes: accommodation with breakfast, air ticket from / to Chisinau.
The price does not include: transfer, medical insurance.
The fare is minimum and it depend on the seasonality, the possible growth of the operational costs, and local events such as: fairs, holidays, symposiums, conferences etc. The minimum number of nights for accommodation may be extended until 7 nights, the rates being modified accordingly.
Air Moldova Corporate Contacts:
Address: Bvd. Negruzzi 10 MD-2001, Chisinau, Moldova
Tel.: + 373 22 811 636
Fax: + 373 22 274 259
E-mail: corporate@airmoldova.md