On the occasion of winter holidays, Air Moldova prepared a special gift for all ski fans.
Thus, travelling with Air Moldova direct or transfer via KIV flights to/from Barcelona, Bucharest, Geneva, Milan, Turin, Venice, Vienna, Verona, each passenger, in addition to the standard free baggage, is allowed to transport ski equipment for free.
This offer is valid for travel between December 1st 2017 - March 25th 2018, regardless of the ticket issuance date.
One set of ski equipment includes one pair of skis, one pair of ski poles, one pair of ski bindings and one pair of ski boots. The equipment shall be well packed in one piece of package, the weight of which should not exceed the regular baggage allowance of 23 kg, regardless its size.
For any additional information please contact the Air Moldova Call Center at (+373 22) 830 830.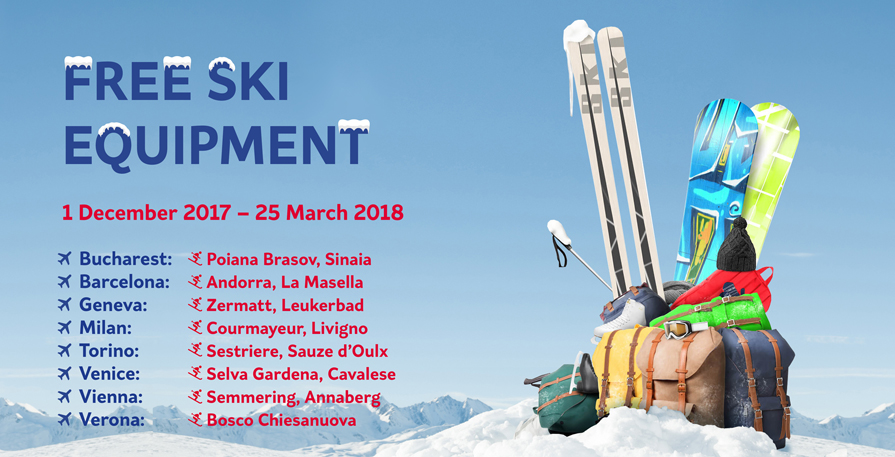 Air Moldova operates direct flights to 30 destinations such as Athens, Barcelona, Bologna, Brussels, Bucharest, Dubai, Dublin, Florence, Frankfurt, Istanbul, Heraklion, Larnaca, Lisbon, London, Krasnodar, Madrid, Milan, Moscow, Paris, Rome, Venice, Verona, Vienna, St. Petersburg, Turin and seasonal flights – Antalya, Corfu, Tivat, Zakintos and Sharm-el-Sheikh. The company offers two classes of service - Business and Economy.