"Air Moldova" company comes with a pleasant surprise for travelers, launching a new flight to the Swiss city – Geneva, starting from the 15th of December 2017, on the eve of winter holidays.
The new flight will be initially operated twice a week, Monday and Friday, according to the following schedule:
departure from Chisinau at 13:00; arrival to Geneva – 14:45 (local time)
departure from Geneva at 15:40; arrival to Chisinau – 19:10 (local time)
Flight tickets will be available for sale starting from June, 26th on www.airmoldova.md, and at "Air Moldova" agencies: 10 C. Negruzzi Street and Chisinau International Airport, as well as at authorized agencies from Moldova and abroad, starting from 79 Euros - one direction, with all taxes included.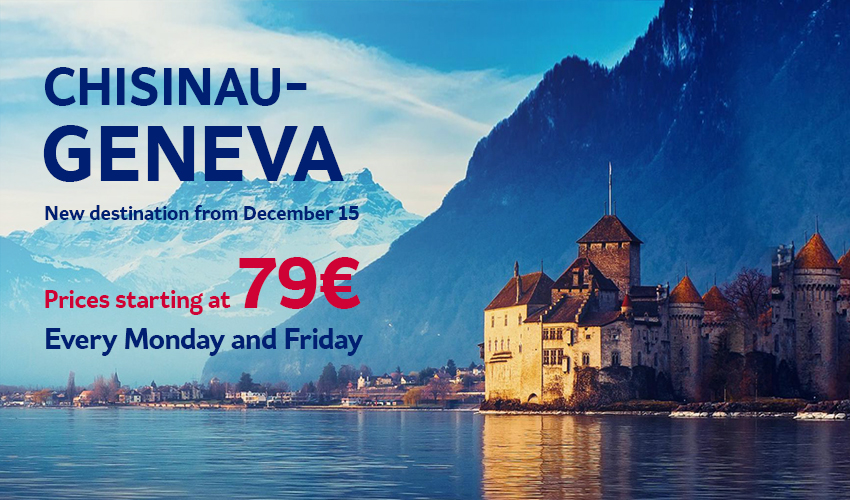 Geneva is one of the most important business destinations, known as "international meetings center". This city is situated between the Alps and The Jura Mountains, on the west of Lake Geneva, the oldest Sweetwater lake on the old continent. Those who are seeking for new holiday destinations will fully enjoy one of the most beautiful cities in Switzerland that opens the way to the most famous ski resorts in Europe.
Besides the new flight to Geneva, "Air Moldova" successfully operates direct flights to other 28 destinations: Bologna, Brussels, Bucharest, Dublin, Florence, Frankfurt, Istanbul, Athens, Barcelona, Krasnodar, Larnaca, Lisbon, London, Madrid, Milano, Moscow, Paris, Rome, Venice, Verona, Vienna, Sankt-Petersburg and Torino, and other five season flights - Antalya, Heraklion, Tivat, Corfu and Zakynthos