Participation in the program
Membership to the Air Moldova Club program is free of charge. Any person aged 2 years old or over, as well as corporations, can become a member.
Every passenger who wants to become a member of Air Moldova Club shall fill in an application form. The application form can be found at Air Moldova offices, its representatives, at sales ticket agencies and on the board of the aircraft.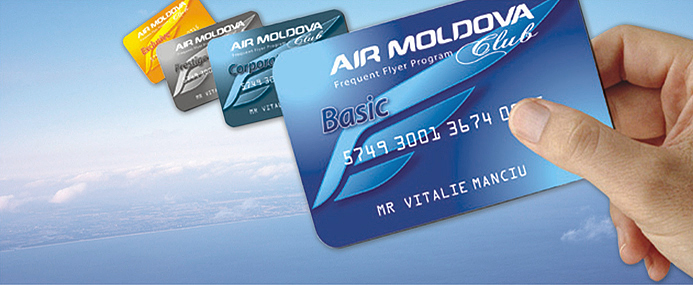 The application forms already have a number of the future member of Air Moldova Club program. This number shall be kept and presented by its holder every time a ticket is purchased on direct flights of Air Moldova or at the check-in.
When you become an Air Moldova Club Member, Air Moldova shall offer you a welcome gift of 150 Credit Miles.
After your first flight since the passenger has registered in the program, you shall receive a membership card.
The new registered Members of the Program shall benefit of earning of Miles for all flights performed by Air Moldova 12 months before being registered in the Program (except the corporate accounts). Credit Miles are valid for two calendar years from the date of travel.
The service center of Air Moldova Club can exclude from the program a certain member who doesn't observe the terms and conditions of the program.
In case the passenger is no more a member of the Air Moldova Club program, all the accumulated Credit Miles shall be cancelled.