Participation in the program
Membership to the Air Moldova Club program is free of charge. Any person aged 12 years old or over, as well as corporations, can become a member.
Every passenger who wants to become a member of Air Moldova Club shall fill in an application form. The application form can be found at Air Moldova offices, its representatives, at sales ticket agencies and on the board of the aircraft.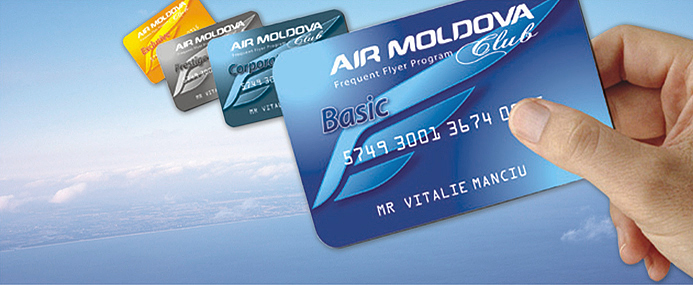 The application forms already have a number of the future member of Air Moldova Club program. This number shall be kept and presented by its holder every time a ticket is purchased on direct flights of Air Moldova or at the check-in.
When you become an Air Moldova Club Member, Air Moldova shall offer you a welcome gift of 150 Credit Miles.
After your first flight since the passenger has registered in the program, you shall receive a membership card. The passenger shall be notified on phone or shall be informed on e-mail when and where he/she can take the card.
Please note that when receiving your plastic card, the passenger can claim miles for flights implemented with Air Moldova for 12 month before the registration in the program. In order to be able to claim these miles the passenger shall provide the information regarding his/her flights by sending us an e-mail on ffp@airmoldova.mdor by calling on: +373 22 57 65 30.
Credit Miles are valid for two calendar years from the date of travel.
The service center of Air Moldova Club can exclude from the program a certain member who doesn't observe the terms and conditions of the program.
In case the passenger is no more a member of the Air Moldova Club program, all the accumulated Credit Miles shall be cancelled.