EU security regulation regarding transportation of liquids
The European Union (UE) has approved new security regulations that limit the amount of liquids that are allowed to be carried in the hand baggage.
These liquids are:
all the drinks, including water and other drinks, soups, syrups;
creams, lotions and oils;
perfumes;
sprays;
gels, including hair and shower gels;
the contents of pressurized containers, including shaving foam, other foams and deodorants;
pastes, including toothpaste;
liquid-solid mixtures;
make-up for mascara;
any other items of similar consistency.
While packing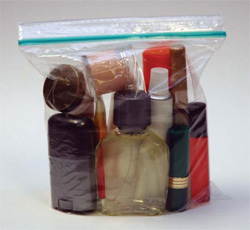 The liquids shall be in separate containers with a maximum capacity of 100 ml each.
The liquids shall be in separate containers with a maximum capacity of 100 ml each. The maximum allowed quantity is 1.000 ml (1 liter) per person. The containers shall be packed in one transparent, re-sealable plastic bag (approximate dimension 20cm x 20cm). The items shall easily enter the plastic bag and it shall be sealed. Every passenger has the right to carry such a plastic bag with liquids.
These rules are applicable to all passengers that leave from the EU airports regardless of their destination. These rules are also applicable to passengers that are non-EU citizens, at the moment of entrance in an EU country. You are not allowed to carry with more than 1000 ml of liquid in your hand baggage taking into account the above/mentioned.
You still are allowed to:
put the liquids in the checked baggage – the new rules are applicable only to hand baggage;
carry in your hand baggage the medicines and dietary products, including baby foods, for use during the flight. You may be asked for prove that these liquids are needed;
buy liquids such as drinks and perfumes either in an EU airport shop when located beyond the point where you are asked for the boarding pass or on board of an aircraft operated by an EU air company. If these liquids are sold in special sealed bags, do not open it before you are screened – otherwise the contents may be confiscated at the checkpoint. (If you are transferred at an EU airport, do not open the bag before screening at the airport of transfer or at the last airport of transfer if you are transferred more than once).
All these liquids are additional to the quantities from the re-sealable plastic bags provided with closing/opening elements mentioned above.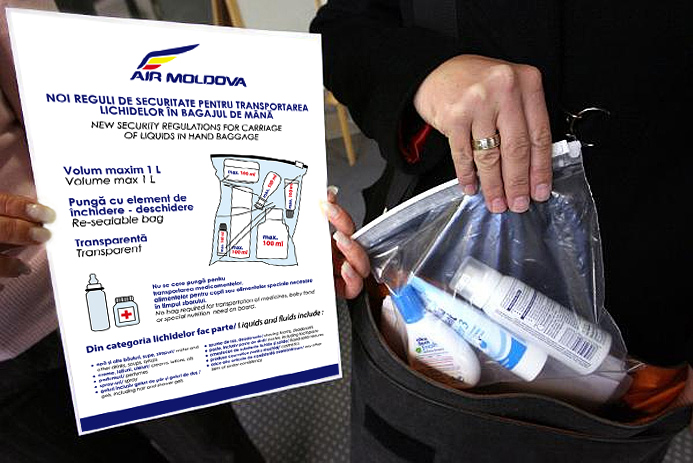 To help the security personnel in detecting the liquids, you shall:
present all the liquids carried with to the security personnel for examination;
take off your jackets and/or coats. These shall be screened separately;
take off the laptops and other large electrical devices from your hand baggage. These shall be screened separately.
It is allowed to transport pets (dogs and cats) in the cabin of the aircraft. In order to get acquainted with transportation rules of the animals on the board of the aircraft, please see Pets transportation.