Special baggage
The baggage that cannot be classified as a standard baggage due to its particular characteristics (type, dimensions, weight etc.) refers to special baggage. Due to limited space on the aircraft, the passenger needs to get prior approval from the airline for the transportation of the special baggage item, before the ticket issuance.
MUSICAL INSTRUMENTS
Instruments may be transported either as checked baggage or carried with the passenger in the cabin, subject to company rules.
General rules of carriage for checked baggage will be applied if instruments are carried as checked baggage in the hold. If in excess to the passenger's baggage allowance from the ticket either in number or weight or in dimensions, airline standard excess baggage charges will be applied. Instruments should be properly packed and secured in hard cases to prevent damage.
Small instruments, not exceeding the free cabin baggage allowance in dimensions and weight, 50x40x25 сm / up to 8 kg (e.g. violin, small trumpet) may be carried in the cabin instead of the passenger's hand baggage. It will count as passenger's hand baggage.
Instruments exceeding cabin baggage allowance in dimensions and weight may also be carried in cabin provided an additional seat is purchased for the item.
An instrument will be accepted for carriage in a passenger seat (CBBG on seat) on the following conditions:
the passenger has requested this service in advance and the airline confirmed it
the passengers pays for an additional seat ticket
The following information should be noted:
free baggage allowance does not apply for the passenger's seat ticket purchased to transport the baggage.
the item should be placed on board in a window passenger seat and secured with a safety belt
passengers travelling with items in a passenger's seat cannot be seated in emergency exit rows
responsibility for its delivery to/from the aircraft, for its safety and integrity shall lie with the passenger
the airline will confirm the service only if the dimensions of the instrument does not exceed below limitations:
Aircraft type A 320 / A319/ A321: From the floor 155 x 42 x 20 cm, From the seat 110 x 42 x 50 cm.
Note: web check-in is restricted for passengers with extra seat for instrument (CBBG).
SPORT EQUIPMENT
The transportation of any sport equipment has to be agreed with the airline in advance, before the ticket issuance and at least 72 h prior the departure. The passenger has to declare the sport equipment at the time of ticket reservation, stating the type of equipment, its weight and dimensions.
Sport Equipment is not included in the free baggage allowance shown on the ticket, an extra charge will be applied for transportation: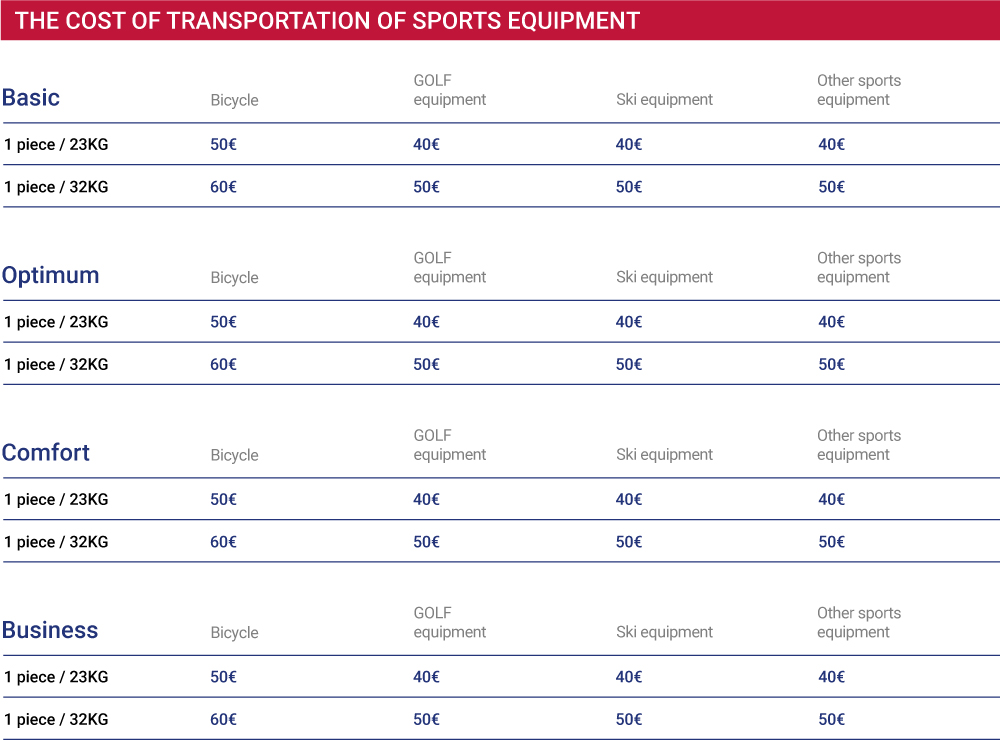 Exception: When determining excess baggage charge, standard dimension limit of 158 cm (sum of three dimensions L x H x W) will be disregarded only for bikes, fishing rods and ski / snowboard / golf equipment.
Package and transportation conditions:
Ski and snowboard equipment: Ski or snowboard equipment (skis, board, poles, boots) should be suitably packed, preferable in a rigid package or a protective bag, to prevent any damage to the equipment itself or to other baggage on board. The tips of the ski poles should be covered or wrapped with foam pipe to prevent the poles from tearing the ski bag.
Golf equipment: Golf clubs, balls and shoes should be well packed and fastened inside their bag to avoid disturbances or damage during loading, transportation and offloading.
Regular bicycles may be accepted for carriage. Electric bikes will not be accepted for transportation, even if the battery is disconnected or removed. The bike must be packed in a hard protective case/box which is meant for transportation of bicycles. Handlers of the bike shall be fixed sideways, tires shall be deflated, pedals removed, and all other sharp objects shall be protected with plastic or card board to prevent damage to other baggage. The dimensions of the package should not exceed 155х35х95сm.
Fishing equipment: It should be packed appropriately in a protective bag or a case to prevent any damage to the equipment itself or to other baggage on board
Surfing equipment: It must be packed appropriately in a bag or a case to prevent damage to the equipment itself or to other baggage on board. Size limitations may be applied.
Weapons and ammunition: Air Moldova does not accept for transportation ammunition and arms (including those for sports and hunting purposes).
Due to size limitation on some of our aircrafts, very large sport equipment ( e.g. large kite-surf, wind/ surf boards, canoes, etc.) exceeding dimensions 240cm x 60cm x 40cm (L x W x W) cannot be accepted on Air Moldova flights. Maximum weight per 1 item accepted as checked baggage is up to 32kg.